I went to the movies with two of my friends a week ago to see 'The Help' but we soon found out that the showing was already sold out. So we decided to go and see 'My Week with Marilyn' instead. I wasn't too disappointed with the change of plans because I actually wanted to see MWWM more than 'The Help'.
The film is set in London, England where sir Laurence Olivier (the great Kenneth Branagh) is filming his new movie 'The Prince and the Showgirl'. It is 1956 and Marilyn Monroe (flawless Michelle Williams) is at the peak of her career. Olivier casts her for the leading role as Elsie and since he has the male lead in the film he is hoping to gain success as an actor in Hollywood with the help of Marilyn. Marilyn on the other hand is hoping to get credibility and appreciation as an actress by acting side by side with Olivier who is noted for his acting skills on stage.
Sir Laurence Olivier (Kenneth Branagh) is dressed for success.
Before the filming begins we meet young Colin Clark (cute Eddie Redmayne) who wants to become a film director. With the help of Vivien Leigh (pretty, although expressionless Julia Ormond), Olivier's wife, Coling gets a job as a third assistant director (a.k.a. an errand boy) in the film. One of Colin's main tasks is to get everything ready before Marilyn's arrival but yet he manages to have a dalliance with one of the girls in costumes, Lucy (sweet but indifferent Emma Watson).
Colin (Eddie Redmayne) is determined to become a director and isn't afraid to show it.
























































































































When Marilyn arrives with her husband, Arthur Miller (tepid Dougray Scott), everything changes. It soon becomes clear to Olivier that the rumours about Marilyn's inability to follow schedules and unbalanced behaviour are true. So he tells Colin to keep an eye on her. After a fall out between Marilyn and Miller, Miller decides to go and see his children back in the States. This upsets Marilyn who confides in Colin after Miller's depart. Colin becomes infatuated with her charms and Marilyn picks him as her confidant. This sets off a chain of events that allow Colin to see what it's like to be Marilyn Monroe instead of being just Norma Jeane.
Marilyn (Michelle Williams) doing what she does best - being Marilyn.


My Week With Marilyn is based on a true story (Colin Clark wrote two books about his time with Marilyn). It is mainly a vivid portrayal of the iconic Marilyn - the ever so flirtatious bombshell when seen in public, who turned into an insecure little girl lost off camera. We get to see Marilyn at her best - the sweet and lively beauty who could charm any man (or woman) within her radar and also at her worst - the woozy and unstable diva throwing childish tantrums. The other theme of the film is concentrated on the relationship between Marilyn and Colin, as well as Colin's growing pains during the filming of 'The Prince and the Showgirl'.
"I'd take care of you, if you'd ask me to."
I have to congratulate the filmmakers about the casting, which is remarkable. Kenneth Branagh as sir Laurence Olivier is brilliant - he dignifies the role of Olivier who considers 'The Prince and the Showgirl' to be his last chance to wow Hollywood. Eddie Redmayne as Colin looks baffeld almost throughout the film but it suits his character very well. (And since I'm a girl I might as well add that he's quite cute as well.) Dame Judi Dench also gives a notable performance as Dame Sybil Thorndike. The only performance (in a key role) I wasn't too fond of was Julia Ormond's portrayal of Vivien Leigh. I found her acting bland and I can't figure out why she was so made-up for the role? To me Vivien Leigh was one of the most beautiful women to have ever graced this earth and I doubt she was that wrinkled at the age of 43. Having read about Leigh's and Olivier's romance and all the struggles they had, I would've hoped to see a more vibrant actress in Leigh's role. But one performance outshines them all - Michelle Williams' performance as Marilyn. She truly captures the essence of Marilyn's character. She has been able to adopt the mannerism of Marilyn without making it look corny, but also gives a solid performance as the fragile and vulnerable Norma Jeane.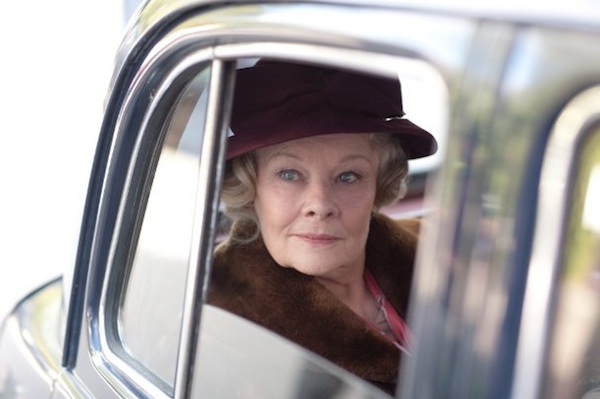 Dame Judi Dench gives a graceful performance as Dame Sybil Thorndike
I was also impressed with the settings - I was instantly sucked into the world of the mid-1950's with its cars, fashion and film studios. I liked the fact that it was set in the London instead of Hollywood. And I was pleased to see that they had copied perfectly the costumes of the original 'The Prince and the Showgirl'. There weren't any surprising twists and turns in the plot but I didn't expect there to be any either. It is merely a story about one of the most admired women of our lifetime, Marilyn. So if you want action or surprising plot twists, this isn't the film for you. But if you want to lose yourself in the Golden Age of Hollywood Stardom and witness great performances, I suggest you go and see this film.
The original 'The Prince and the Showgirl'